Health Care and Human Services
Critical Resources for Special Needs Families
2/28/2018 | Video
Webinar: Creating a Blueprint for Your Loved One's Future 
Long-term planning is essential for individuals with disabilities and their families – regardless of age or level of disability. This practical webinar will help families of individuals with intellectual and developmental disabilities identify key areas where planning is needed and steps they can take to be prepared for the future. Topics discussed will include: accessing government services, guardianship, special needs trusts, employment, medical care, housing & in-home supports and care coordination. 
Speakers:
Liz Shea, Of Counsel, Porzio, Bromberg & Newman (former Assistant Commissioner, NJ Division of Developmental Disabilities)
Deirdre Wheatley-Liss, Principal, Porzio, Bromberg & Newman
Click below to see the full webinar: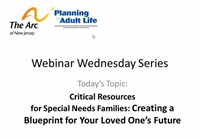 Disclaimer: Please keep in mind that laws are constantly changing and the content of materials on this website may not reflect their current status.