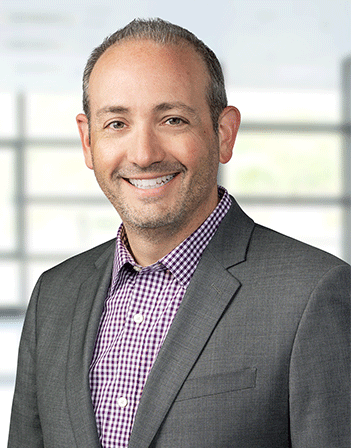 Andrew Laver
Chief Marketing & Business Development Officer
Morristown, NJ | Philadelphia, PA
(973) 889-4157
ADLaver@pbnlaw.com
Overview
Andrew Laver is responsible for Porzio, Bromberg & Newman's firm-wide marketing and business development initiatives. In this role, he relies on his strong background in and knowledge of marketing, business development, client service and sales, branding, product and project management, coaching, and communication. He has more than 25 years of experience in the legal industry and has served in management roles at AmLaw100 and AmLaw200 firms, establishing a proven track record of identifying, evaluating, and directing new business initiatives that support firm practices and targeted industry business plans.
Andrew oversees the day-to-day operation of the Business Development and Marketing team while working closely with the firm's Managing Principal, Chief Administrative Officer, Chief Financial Officer, Chief Technology Officer and other administrative leadership to spearhead strategy, program direction and the firm's innovation to help achieve strategic goals.
Active in the Legal Marketing Association (LMA), Andrew was the President of the Metropolitan Philadelphia Chapter in 2014 and joined the LMA's Governance Committee in 2015 where he served as Co-Chair from 2017-2018. He served as Co-Chair of the 2nd Annual Philadelphia Education Conference in 2016, served as a member of the 2017 LMA Annual Conference Advisory Committee in Las Vegas, NV and served as the Co-Chair of the 2019 LMA Annual Conference in Atlanta, GA. Andrew served as a Member-At-Large to the LMA Board of Directors from 2019-2021, served as Treasurer Elect to the LMA Board in 2022 and is currently serving as Treasurer to the LMA Board in 2023. He is also an active speaker on a variety of business development and professional development topics.
Andrew is a graduate of Syracuse University and was president of the Syracuse University Philadelphia Alumni Club from 2007-2010. Since then, he served on the board of the Syracuse University National Alumni Association, Inc. in various committee, ex officio, and board roles. He served two consecutive two-year terms as Vice President of the Alumni Association and, as a member of the Executive Committee, chaired the Awards and Nominating Committees.
Memberships
Legal Marketing Association, Inc. ("LMA") - International (2007 - Present)

Chair, Governance Committee; Organizational Structure Task Force; Co-Chair, Annual Conference QuickStart (R) - Legal Marketing Core Compentencies (2015 - 2016)
LMA Regional Task Force; Nominating Committee (Northeast Region and International Boards); Annual Conference Advisory Committee; Governance Co-Chair; Infrastructure Review (2016 - 2018)
Co-Chair, 2019 Annual Conference Advisory Committee ("ACAC") - Atlanta, Georgia (2018 - 2019)
Member at Large, LMA International Board of Directors (2-year term) (2020 - 202)
Treasurer-Elect, LMA International Board of Directors (2022)
Treasurer, LMA International Board of Directors (2023)

Syracuse University National Alumni Association, Inc. (2010 - 2020)

Member, "Generation Orange" Creation and Planning Committee; Ex-Officio Board Member; Clubs Committee; Chair, Awards Committee; Chair, Nominating Committee (2010 - 2018)
Member, Office of Regional Advancement Leadership Planning Committee (2010 - 2019)
Officer, Board of Directors (2013 - 2020)
Vice President, Syracuse University National Alumni Association Board of Directors; Member, Executive Committee (served two consecutive elected terms) (2014 - 2018)