Article
NLRB Making America Grate Again
Employment Law Monthly - September 2016
Late last month, the National Labor Relations Board ruled that students who work as teaching and research assistants at Columbia University are employees of a union. This landmark decision reverses a 2004 NLRB decision and green-lights unionization efforts at private universities throughout the country.
The NLRB rulings on the issue of teaching and research assistants have flip-flopped in recent years, creating a difficult area to navigate for students and private universities alike, and reflecting very clearly the significance of the political makeup of the NLRB.  
To read the full article, please click here.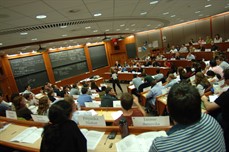 Authors
Related Practices