Event
Principal Deirdre Wheatley-Liss to Moderate the NJICLE Program "A Lawyer's Guide to Estate Planning"
11/17/2016
Wilshire Grand Hotel, West Orange, NJ
Porzio principal Deirdre R. Wheatley-Liss will moderate the NJICLE program, "A Lawyer's Guide to Estate Planning," on November 17, 2016, from 9:00 AM to 12:35 PM ET at the Wilshire Grand in West Orange, NJ. 
This comprehensive program will provide lawyers with the necessary tools to effectively plan estates and draft wills in New Jersey. Attendees will learn how certain types of estate plans benefit your clients, how they work and how best to fund them. 
This is a unique opportunity to receive valuable information and practical tips to design estate plans to successfully accomplish your clients' goals.
To learn more and to register for this session, please click here.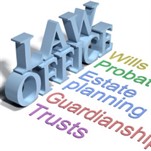 Key Contacts
Related Practices