News
Porzio Mourns the Loss of Elmer M. Matthews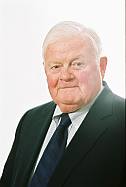 With great sadness, Porzio, Bromberg & Newman announces that former of counsel, Elmer M. Matthews, passed away on February 5, 2015.
Elmer had a long and distinguished career.  Upon  graduating from the University of Notre Dame he received his law degree from Fordham University and his Master of Laws from New York University.  Elmer was elected to the New Jersey General Assembly at the age of 28 and served three full terms in that House.  During that time, he served as Assistant Majority Leader, Majority Leader, Speaker and Acting Governor of New Jersey.
Elmer served on various legislative boards and state commissions, including the New Jersey Tax Commission, the New Jersey Insurance Law Revision Commission, the New Jersey Commission on Legal and Ethical Problems in the Delivery of Health Care and the Governor's Committee on Transportation Policy.
Elmer represented the New Jersey Catholic Conference and served as their general counsel for over 40 years.  In private practice for many years, he was a partner in Sterns & Weinroth and Clapp & Eisenberg, and of counsel at Tompkins, McGuire, Wachenfeld & Berry prior to joining Porzio from 2003-2008.
Porzio's managing principal, Jeff Campbell states:  "Elmer's passion for the law and strong commitment to public service is an inspiration to us all.  Porzio is honored to have been associated with him.  He will be sorely missed."
Arrangements can be found at the O'Brien Funeral Home website.