News
Porzio Life Sciences Year-End Report: Navigating the Regulatory Landscape
Porzio Life Sciences ("PorzioLS") has been a leading resource for the life sciences industry for over 11 years. The 2014 Year-End Report was the first annual PorzioLS accounting of the headlines and emerging trends of the prior year. Continuing in this vein is the 2015 Year-End Report: Navigating the Regulatory Landscape. 
Topics include:
Distribution & Licensing

Track and Trace Requirements for Wholesalers, Manufacturers and Repackagers
Wholesaler and Third-Party Logistics Providers ("3PL") Licenses Reporting
Massachusetts Alternatives to Sampling
Medical Device Excise Tax

Enforcement Actions

FDA Office of Prescription Drug Promotion Enforcement Letters
FDA Guidances Regarding Drug Promotion
Government Prosecutions: Major Settlements
Pharmaceutical Companies vs. The FDA

International Transparency

Ready or Not: Make Way for the Global Transparency Movement
Key 2015 Ex-US Events
2016 International Reporting Deadlines

Mid-Level Regulations

Key Changes to Mid-Level Regulations in 2015
The Advanced Practice Registered Nurses ("APRN") Independence Movement

US Transparency

Sunshine Act Changes Affecting 2016 Data
Pending Legislation to Amend the Sunshine Act
State Legislation Requiring the Reporting of Marketing and Advertising Costs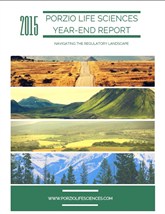 To read the full report, please click here.
Related Practices
Related Industries