News
Principal Warren J. Martin Jr. Featured in TMA's Journal of Corporate Renewal
Porzio principal Warren J. Martin Jr. is featured in the article "Back on the Boardwalk," by Maura Sage, in the Spotlight section of the July/August 2016 issue of the Turnaround Management Association (TMA) Journal of Corporate Renewal. 
The article focused on the 2016 TMA Mid-Atlantic Regional Symposium, held June 8-9 in Atlantic City. Mr. Martin was a member of the lead panel, "The Future of Atlantic City," which explored the financial problems facing Atlantic City, as well as the strategies and prospects for a successful turnaround. The esteemed panel debated the benefits to the city of a Chapter 9 proceeding, versus those of a takeover by the state. 
TMA is an organization focusing on the business of financial restructuring, with a majority of members coming from non-legal circles. 
To read the Journal of Corporate Renewal article, please click here.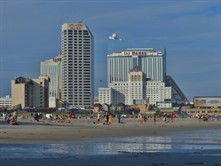 Key Contacts
Related Practices