News
Principal Frank Fazio Testifies Before New Jersey Assembly in Support of State Biotech Companies
Porzio principal and Porzio Life Sciences (PorzioLS) vice president Frank Fazio testified before the Assembly Health Committee in support of A3793, on behalf of biotech companies statewide.
Bill A3793 clarifies that approval from the U.S. Food and Drug Administration (FDA) is not a condition for a pharmaceutical company to receive registration approval by the State Department of Health. As registration in a company's home state is one of the necessary first steps in the process for a new drug to be brought to market, the requirement imposed by the State Department of Health was particularly burdensome on companies based in New Jersey. Bill A3793 further requires the Department of Health to review registration statements and reply to the registrant within 30 days of receipt.
Bill A3793, sponsored by Rep. Timothy Eustace (D) and Rep. Erik Peterson (R), was passed by the Assembly on October 6, 2016.
Mr. Fazio had previously testified before the New Jersey Senate in support of companion Bill S2024, which passed unanimously (40-0) on June 30, 2016.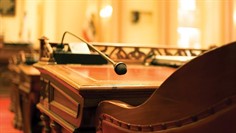 Key Contacts
Related Practices
Related Industries