News
Market Street Mission's Holiday Express Christmas Party
On Saturday, December 9th, Porzio, Bromberg, & Newman hosted the Market Street Mission's Holiday Express Christmas Party for the mission's alumni in the firm's Morristown office. The event included approximately 100 attendees who enjoyed music, dancing, and visits from characters including Elmo, Cookie Monster, the Grinch, Frosty and Santa. In addition to providing space for the event, the firm made a financial donation. Nick Drappi, the firm's Director of Facility Services, has facilitated this event on behalf of Market Street Mission for the past three years and works closely with the organization to ensure that they have what they need for a successful party.

"Porzio has always had a culture that supports community service and giving back to our local communities," Drappi commented. "I feel fortunate that I can use the work that I do everyday as a platform to support Market Street Mission in their efforts to serve those in need."

About Market Street Mission:
Since 1889, the Market Street Mission has been reaching out to those in need in Morris County. The Market Street Mission assists individuals to overcome homelessness, addiction, and poverty.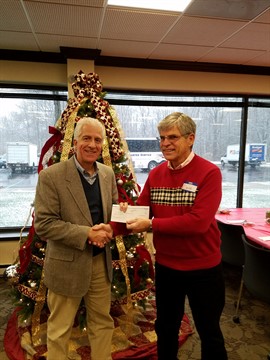 Porzio Managing Principal Vito Gagliardi and
G. David Scott, Executive Director, Market Street Mission