News
Porzio Principal Bill Hughes Featured in Shore News Today Article
Porzio principal William (Bill) J. Hughes, Jr. was featured in the Shore News Today article, "For Bill Hughes Jr. Catching Up with a Friend Took Him to the Rose Garden," by Suzanne Marino, on April 19, 2017.
The article focused on Bill's friendship with newly appointed U.S. Supreme Court Justice Neil Gorsuch, and his attendance at Gorsuch's swearing-in ceremony on April 8. In describing the ceremony, which also was his first day as a principal with Porzio, Bill stated, "It truly was an awesome experience to be invited and I will take that experience with me for the rest of my time."
To read the full article, please click here.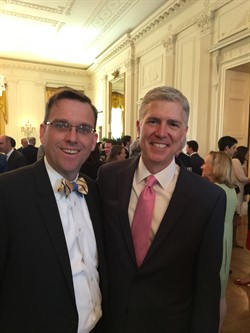 Key Contacts
Related Practices
Related Industries